Weekend Blitz
A round-up of the best things about the past week
Best Pressie
Soooooo… Husband Phil is super cool and got me an iPad Mini 2 with a keyboard, so now I can take Book 2 anywhere and write it on the go.  I LOVE IT!!
Best New Name/Job Title
Here I am in the Sidmouth Herald – my first bit of print publicity!  They call me the 'Festive Love Author' which is AMAZING.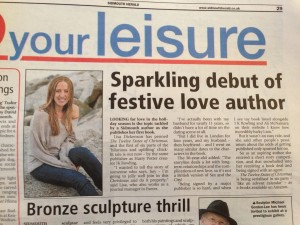 Best Yellows
I can't get over how gorgeous this sky was over Sidmouth the other day…
Best View 
The sun setting over Cornish hills