Weekend Blitz
A round-up of the best things about the past (two) week(s)
Best Valentines
Hello flowers and wine!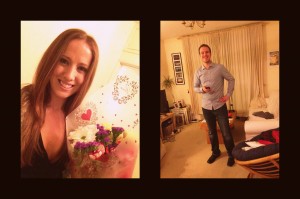 Best Calm After The Storm
Sidmouth seafront.
Best Crepes
My lovely friend Alison took Emma and I to a yummy creperie in Brixton Village when we went to visit her.  Mine had homemade butterscotch on, Emma's had chocolate, and Alison's had both!
Best Surprise Sunshine
While drinking lattes and eating salted caramel brownies at Bertie & Boo cafe in Balham, out came a big warm sunshine that we hadn't seen for weeks!
Best Dance Evening
I saw Thriller with some girls from work, and now desperately desperately want to become a Michael Jackson-style dancer!