The Sunlounger 2 Summer Party!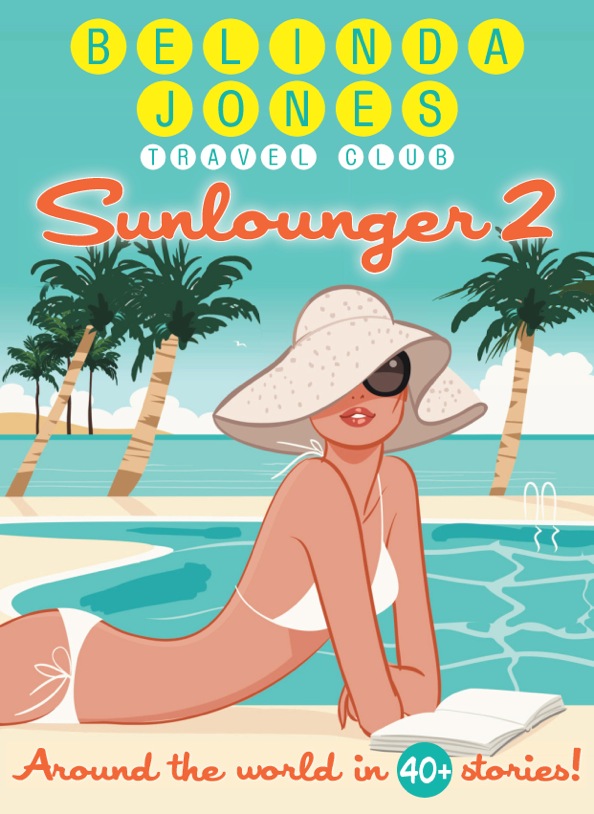 Usually, a Thursday afternoon would find me sat in the office staring at my computer screen or into space.  Perhaps I'd take a break for a cup of tea – or a coffee if I'm feeling wild!  But last Thursday I spent the afternoon sipping sweet Mai Tais and nattering with some of the loveliest authors and bloggers in the biz at the summer launch party for Sunlounger 2, an anthology of vacation-based short stories by 40+ authors (including me!)
The bash was held in the London Hilton's tiki bar, Trader Vic's, and within moments of arriving I was draped in both a pink lei garland and a gigantic squeeze from Belinda Jones, the creator, contributor and all-round queen of the Sunlounger books.  The room was filling fast with partygoers looking like they'd stepped out of a scene from South Pacific, and over cool Mai Tais I met, squealed and gushed over all of them.
I spent four hours in a happy whirlwind of lovely people.  I finally got to chat to book blogger heavyweights Laura (She Loves To Read), Jess (A Novel Thought), Victoria (Victoria Loves Books), Kirsty (The Love of a Good Book), Trish (Tishylou's World), Sharon (Shaz's Book Blog), Sam Smith (The Book Corner) and Kim Nash (Kim the Bookworm).  They were all sparklingly lovely and heaps of fun!  Trish had made the most epic overnight journey to be at the bash, and Jess didn't even flinch when I had to tie my dress to my bra strap and then led us the wrong direction to the tube station when we left.  I also met the fabulously inspiring Jayne Gorman of this lovely travel blog, and also of 40 Before 30, who's moving to Australia any day now!  And I was pleased to pieces to finally meet Kate Gordon, who runs the Belinda Jones Travel Club Facebook page, and Rebecca Manion, who is one of the Sunlounger judges.
Trish gave me the opportunity to sign my first ever book, since Little, Brown had sent her a bound proof of The Twelve Dates of Christmas (it was RIDICULOUSLY exciting, not least because of her glowy pen):
I met fantastic authors, previous Sunlounger winners, and all together yum-faces Holly Martin and Pernille Hughes.  I chatted with lovely writers including Val Baglietto, Tracy Boom, Laurey Buckland, Carrie Duffy, Lucy Robinson, Victoria Fox and Chrissie Manby.  There were lots of others at the do, but sadly I didn't get to chatter to them all or we only managed to squeeze in a quick 'hello', including but not limited to Anna-Lou Weatherley, Tasmina Perry, Lucy Lord, Ilana Fox, Nigel May, Jo Thomas, Abby Clements and Milly Johnson.
And suddenly through the crowd appeared the amaaaaazing Cressida McLaughlin, soon-to-be author, and Novelicious contributor, who up until 10.30 that morning hadn't even known she was coming to the party!  I got so over excited I barely let her go for the rest of the event.  We did miss her lovely Novelicious pal and hilarious author Rosie Blake though, who couldn't make it.
The incredibly talented Tracy of Tracy's T-Cakes had created these fantastic Sunlounger cupcakes – god knows how you print a book cover, picture of Florence or someone's face onto a cupcake – that caused ooo's and ahh's from anyone who went near them.
So all in all, it was a tremendous afternoon, and a big round of applause for Belinda is in order, not just for organising the party, but for bringing together so many people, and helping new authors reach their dreams, with her Sunlounger adventure.  I think I shall move to San Diego so I can bask in her amazingness (and in the Californian sunshine) all day long.
How lovely.  Same time next year?
L xx
PS: The brand new SunloungerStories.com will launch soon, packed full of information about Sunlounger 2 and all the authors and stories!
PPS: Unfortunately, in all my excitement I failed to realise my flash was off and that I could have got much better photos if it wasn't, so they're a little grainy, but the below still spread a smile across my face when I look at them.