Merlot Blog Tour Round-Up #5
The You Had Me at Merlot blog tour is PRETTY EPIC.  So I want to send a big fat thanks to the following lovely lovely bloggers, who I wouldn't be able to pour You Had Me at Merlot out into the world without.  It's spanning over several posts, and here's the latest installment…
Eve's Chick Lit Reviews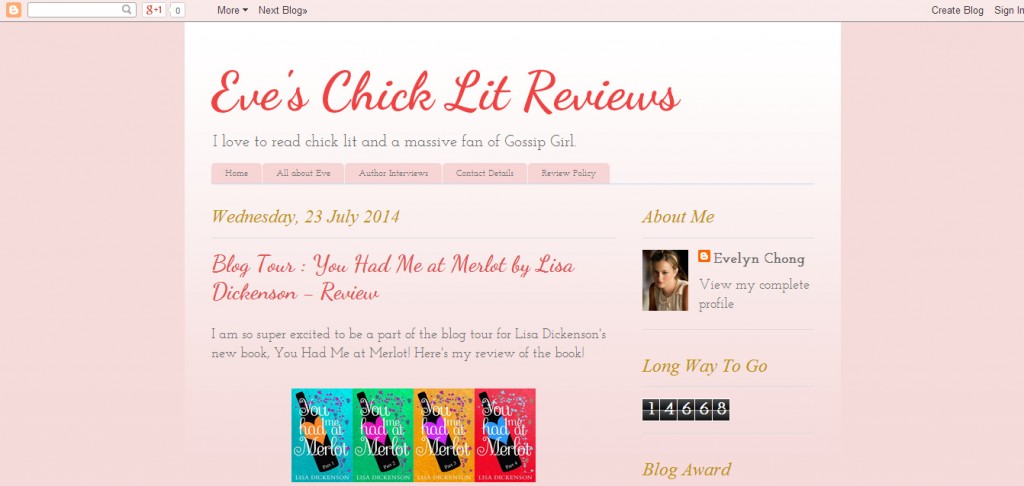 Eve is SUCH a nice person, and off I zoomed to Malaysia to be on her fabulous blog!  She gave Merlot a stonking 5/5 review, so gigantic thanks to her!
"It is definitely one of the funniest books I have read for the year … Lisa Dickenson's writing is original, brutally relatable and terribly humorous. Her work has all the hilarity, sophistication and flair one would expect from a book because it's flipping good. You Had Me at Merlot is an adorable, fun-filled, hilarious read that will make you weep with laughter and believe in love. This is a book for all the single ladies out there! You might need a glass of Merlot to go with it."
Miss Bookworm Reviews

Next stop was with the brilliant Abbey, who might just have the most colourful website in the universe, and who gave Merlot and sparkling review and '5 perfect summer stars'!  THANKS ABBEY!
"You feel will nice and warm, may even wanting to book a holiday to Tuscany right away! "
Handwritten Girl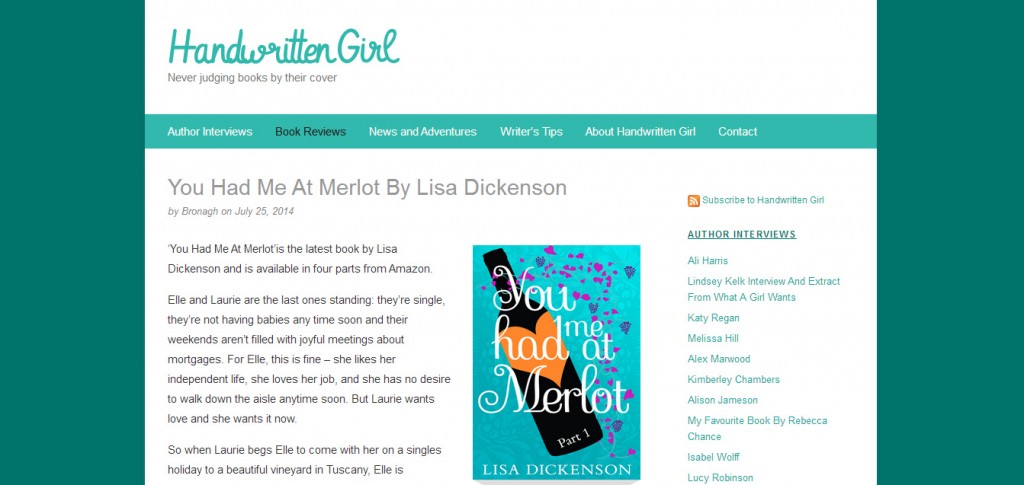 Back aboard the booze cruise blog tour and off we headed to see Bronagh over on her blog, Handwritten Girl.  Oooo, she's just lovely!  Thank you Bronagh!!
"'You Had Me At Merlot' is a delicious story that had me giggling throughout. Fun from the very beginning, it's filled with hilarious scenarios, witty one liners and plenty of food and drink for thought! A lovely introduction to a new author for me." 
More to come…