Merlot Blog Tour Round-Up #11
The You Had Me at Merlot blog tour is PRETTY EPIC.  So I want to send a big fat thanks to the following lovely lovely bloggers, who I wouldn't be able to pour You Had Me at Merlot out into the world without.  It's spanning over several posts, and this is the last one!  It's over!  SOB.
Holly Martin's author site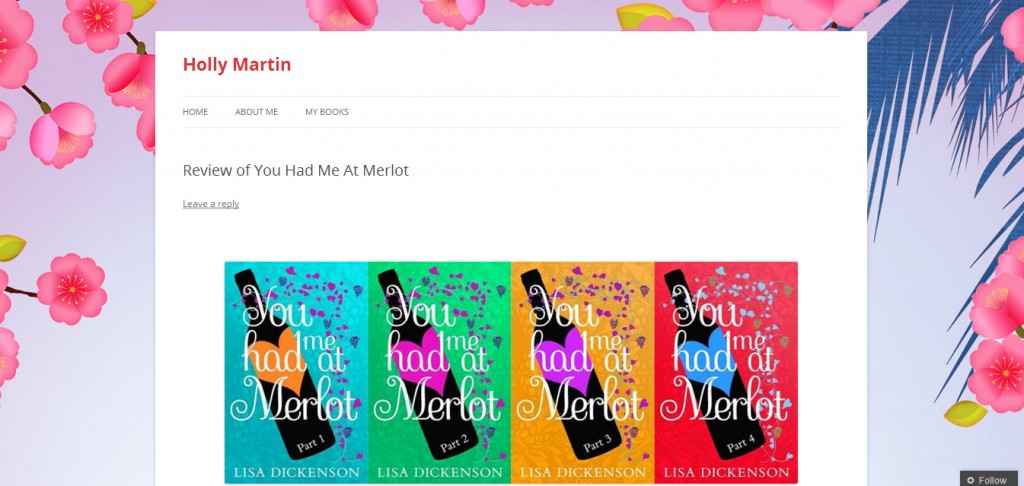 Oh Holly Martin, where do I start?  It's pretty spesh when a multi-award winning author seems to like your books back, and Holly is quite probably the nicest, most supportive author in the biz.  She's a fantastic writer, an hilarious person and you NEED to check out her books now, if you haven't already, otherwise everyone will laugh at you.
I utterly adore Holly's review of Merlot, and am so grateful to her for taking the time to read it and then having me on her site.  (Is it obvious that I have a huge girl crush?  Do you think she might take out a restraining order??)  THANK YOU HOLLY xxxx
"I know Lisa has a huge career ahead of her as a romantic comedy writer, and one that is already head and shoulders above her peers with her fresh, sparkly gorgeous style … You need You Had Me At Merlot in your life, perfect to read for by the pool, in your garden or as you're sipping a warm glass of Merlot.  Buy it now, I promise you won't be disappointed."
Best Chick Lit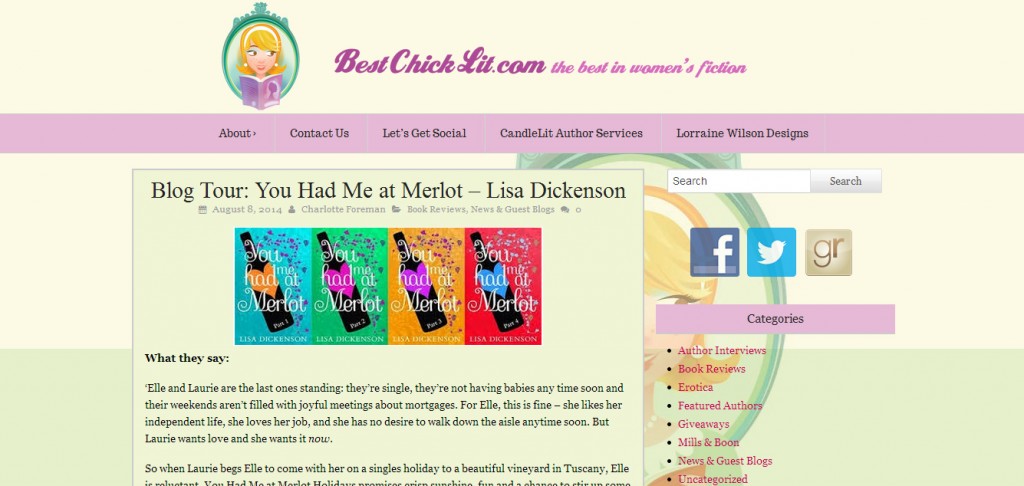 Over to the gorgeous Charlotte next on Best Chick Lit.  You really should check out this site if you haven't already – not only is it choc-full of fabulous reviews and services. it also has a male counterpart – Best Chap Lit!  What a fab idea!  Thank you SO much, Charlotte, for giving You Had Me at Merlot a cracking review!  xx
"To coin a phrase, You Had Me At Merlot is amazeballs … Lisa Dickenson manages to unsleaze the subject of a holiday romance and take the stigma out of singles holidays in one go and it's effortless … It'll make your summer, I promise."
Sarah Loves To Read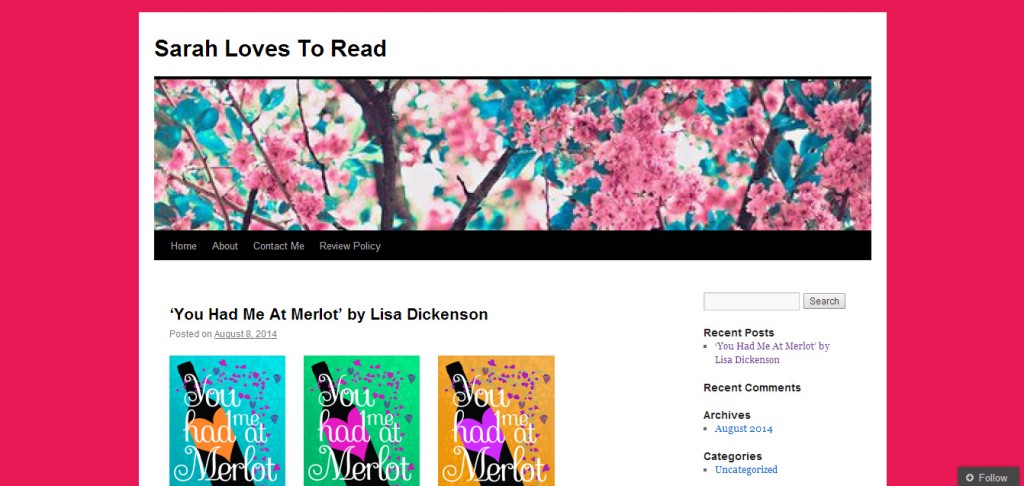 The penultimate stop on the You Had Me at Merlot blog tour was with the absolute gem that is Sarah, on her new site Sarah Loves To Read.  Her original site was hacked – boooo! – so make sure you support her on her new one.  Thank you so much Sarah for your loooovvveely review xx
"I throughly enjoyed The Twelve Dates of Christmas that was published last year (you need to go check it out), so I genuinely squealed when I found out about You Had Me At Merlot … I really wanted to take my time and appreciate the writing (because Lisa is flipping amazing), but once I got to the end of one part I just HAD to know what happened so I carried on."
Shaz's Book Blog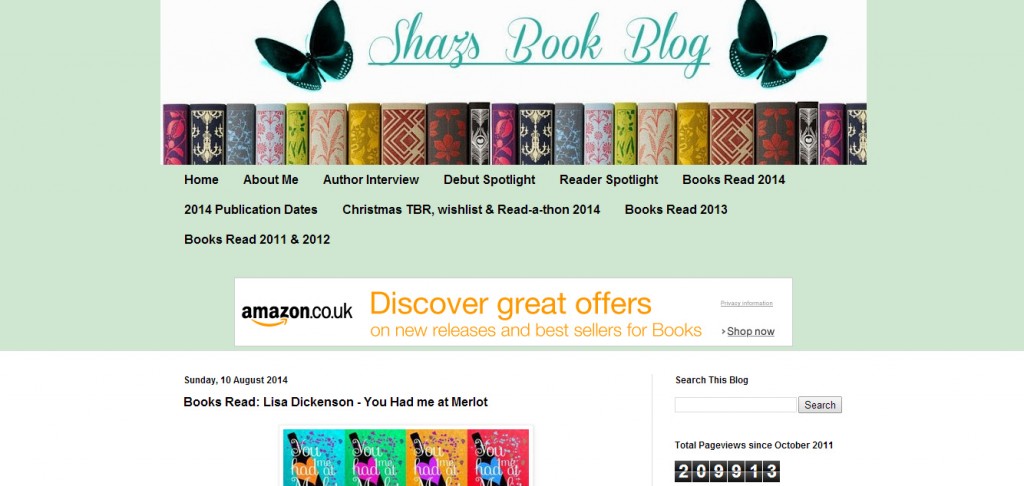 Ah, Sharon.  She was there at the beginning with 12 Dates, offering me a Debut Spotlight post on her blog, and here she is as the finale of the You Had Me at Merlot blog tour.  What a star, hey?  A big big big, grateful, thanks to Sharon for her review of Merlot, and for her support… xx
"I honestly didn't think Lisa would be able to top her debut novel The Twelve Dates of Christmas but she certainly has and some, there are not enough superlatives for what I thought of this book.  I loved everything about it, the concept, the interesting mix of characters, but especially the vineyard which sounded divine and somewhere I would love to visit although maybe not on a singles holiday but if I could meet a leading man like Jamie maybe I could be persuaded…"
The END!  It's been a blast, thanks to everyone who joined me on the You Had Me at Merlot blog tour…