It's All Just a Bunch of Hocus Pocus
This post was first published on October 31st, 2013
A few Novembers ago I visited Salem, Massachusetts.  In case you don't know, or you haven't seen the Best Film of All Time, Hocus Pocus, in which case I'm not sure we can be friends, Salem is notable for its historic witch trials in 1692.
The Salem Witch Trials brought the deaths of over 150 women and children (and some men) through hanging or condemning them to prison.  The accused were suspected of witchcraft for as little as having fits, owning cheese that went bad, or just if somebody chose to accuse them.  It was grim times, to say the least.
Nowadays, Salem is a pretty town which uses its history to educate tourists who, like us, arrive in flocks.  We took a day trip to Salem from Boston, so wanted to cram in as much witch-hunting sightseeing as possible.  Here's what we saw…
A live reenactment of a witch trial at the Witch Dungeon Museum:
A graveyard, of course: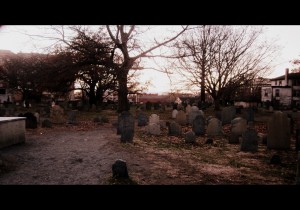 The Witch House:
Allison's house from Hocus Pocus:
A statue of Samantha from Bewitched:
And the world's most terrifying witch…
Even my big tough husband was scared:
HAPPY HALLOWEEEEEEEEEN!