I'm baaaaaaaaaaaaack!
Hello all, how've you been?  Nice Christmas?  Merry New Year?  Any January flood damage?  How are the kids?  Tried any nice new chocolates lately?
I've been absent for a while now, digesting the excitement that was Twelve Dates and figuring out the full storyline of my next book, which I've just started penning.  It's based in LA – primarily – about a girl who is completely out of her depth when she uproots her life on a whim after winning a competition to spend the summer at a film school in Hollywood.  So from now on the twinkling Christmas lights of Covent Garden have been put to rest and I'm writing all about baking early morning hikes and skyscraper-tall palm trees.
I'm also mid-scribble writing a short story for the second Sunlounger anthology, due out this summer, organised by incredibly talented author Belinda Jones.  I currently have three ideas for what I'm going to write, so at this rate they might all be sent over and Belinda can pick the least rubbish!
In other news, the weather's been pretty crap down in Sidmouth for the last couple of weeks – all rain and wind and beach-pebbles taking wild vacations away from the home and making a break for it up into the town.  The one good thing about all these storms is that you can get some stunning crashy-waves photos.  Silver linings.
But needless to say, my thoughts are turning to summer and holidays and shorts and ice creams and flip flops.  I've amped up the gym-going to try and lose a few of the pounds I piled on over the past couple of months.  And right now the sun has popped out… but don't tell anyone because it might go away again.  In fact, this is the forecast for tomorrow…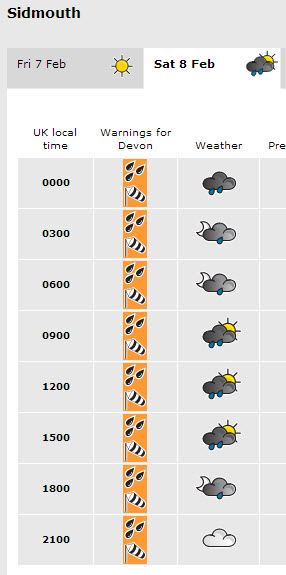 So, it was nice to see you, and we'll chat again soon?
Cool.
BYE.
L xx