Holly's new book is nearly with us!
HAVE YOU READ A HOLLY MARTIN BOOK YET?  If not, you should, otherwise you're being very silly and quite naughty.
Holly Martin, author of the fabulous The Guestbook, winner of last year's Sunlounger short story competition, contributor to this year's Sunlounger 2 has today shown us the beeeeautiful cover for her new book.  It's called One Hundred Proposals and you can and should and will pre-order it here.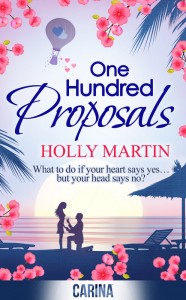 LOOK HOW PRETTY!  Don't forget, you can pre-order it HERE!
She's also been in cahoots with Laura Lovelock of She Loves to Read to create this amazing promo video, which just happens to bally-well include Husband Phil and me!
Check it out, buy the book, check it out: