Blog Tour: Round 6
SADNESS.  SADNESS GALORE.  This week was the last week of my blog tour!  I'll miss being part of The Mrs Carter Show World Tour The Twelve Dates of Christmas Blog Tour, but it's been absolutely brilliant.  I've met, chatted to, laughed with and written things for a bunch of absolutely ace people, who I can't even begin to thank enough.
So, here's the round up of blog touring and other mentions from this week…
Day 21
First stop I hopped over to Books with Bunny, for a smashing TWO FEATURES.  TWO.  Sort of.  A review, and a super-shmultztastic guest post about my best ever Christmas present.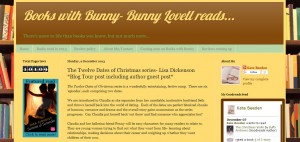 "Lisa Dickenson has written a perfect festive read – heart-warming, laugh out loud funny (honestly, date four will stay with me for a LONG time to come!  I snorted!) and absolutely, totally, utterly Christmassy."
A 9/10 review!  How cool is Kate??
Day 21
AND on the same day I jetted over to Malaysia to the absolutely fabulous Kevin's I Heart.. Chick Lit blog to chatter about my favourite (mostly stolen) Christmas recipes: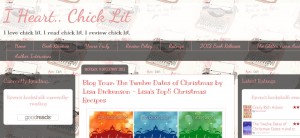 Kevin is just BRILLIANT, and has rated all parts of Twelve Dates with 5 bloomin' stars on Goodreads!
Day 22
I had a lovely surprise on Tuesday when Kai put a Twelve Dates giveaway competition on her website!  She said some lovely things, and there's still two days to enter if you want to win the complete set delivered straight to your kindle (just click below).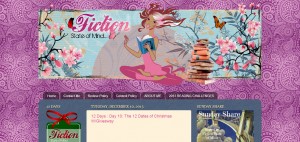 "Three volumes in and I have to say I'm utterly in love with this series! As an obsessed fan of all things British, I love this glimpse into the activities of a contemporary British Christmas."
Day 23
THE FINAL BLOG TOUR STOP!!  NOOOOOOO!!  But it was a goodie.  The incredible Leah of Chick Lit Reviews and News hosted me while I blathered on about the inspiration behind Twelve Dates.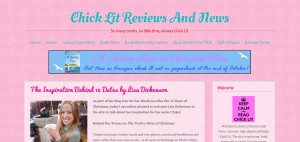 I'm super grateful to Leah for having me on her (beautifully coloured) blog.
Day 23
Then Rhin put a smashing review on her Perfect Nostalgia site, which was a big surprise and she was ever so nice!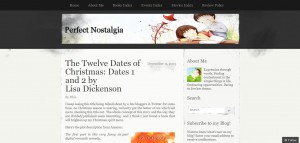 "The characterization of Claudia is unique and Lisa Dickenson definitely doesn't portray her as perfect and too far-fetched. She has her flaws and surely, readers can easily relate to her. I love how the personalities of each characters have been made apparent that while some show to be funny and likeable, some show otherwise."
THANK YOU!
A huge huge huge huge thank you to everyone who's taken part in my blog tour for Twelve Dates, and also all those who've written reviews, spent your time and money reading it, and just generally been whoppingly nice.  In the words of THE QUEEN, Baby I can see your halo…
So that's it.  It's the end of the world, as we know it.
L xx