Blog Tour: Round 5
And another lovely week on the blog tour bus has zoomed by…  There's been wine, merriment, karaoke, dance-offs, snogging under the mistletoe… Although that was all just me in my living room.  Here's what else has been going on…
Day 16
Brilliant Sharon gave Dates 7&8 another tremendously nice review (oh, she's just so FAB).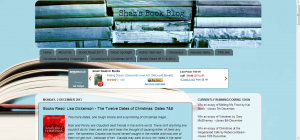 Click on the pic for the full review, but here's a snippet to wet your whistle:
"Once again Lisa Dickenson's descriptive writing had me crying tears of laughter…"
See, she's FAB.  I can't thank her enough for all the promotion she's given Twelve Dates on her blog.
Day 17
Ahhh Jody… how I love this girl… One day we plan to go on a Dawson's Creek homage to Wilmington in the USA, but for the mean time I will just love her and her lovely website.  She had me on her site as part of the tour this week, and I blabbered on about my favourite Christmas books.  But before I did that, she gave Twelve Dates just the nicest review I could wish for, with a 10/10!!!: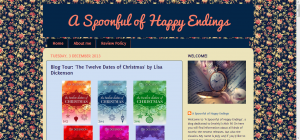 Please read the full review, but here's just a little taster:
"Wow, what an amazing read! …  it's without a doubt one of my favourite releases of 2013, and my absolute favourite Christmas-related release of this year."

I LOVE HER.
Day 18
Then off I shimmied to Chloe's awesome site (which, by the way, has had a gorgeous Christmas makeover).  We had a fab Q&A in which she asked loads of brilliant, Christmassy questions.
I'm so grateful to Chloe for having me on her blog!  My little book would be sitting unnoticed if it weren't for people like her and the other brilliant bloggers.
Day 19
Lovely lovely Laura put a review of part 2 of Twelve Dates on her site, and gave it ANOTHER 9.5/10, which I was just over the moon about!  I don't know if the reviewers and bloggers will ever quite know how much something like that means to me.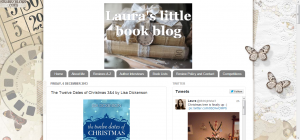 Here's a snippet, and you can click above to read the full review:
"Once again this was hilariously funny and such an easy read and these little snippets are seriously addictive!"
Day 20
Now this was a bit exciting.  This wasn't part of my blog tour, but was a great feature on Chick Lit Club where they asked a host of authors which books they'd like to find in their Christmas stockings this year.  The ever-spangletastic Belinda Jones was one of the authors asked, and she only jolly well said Twelve Dates!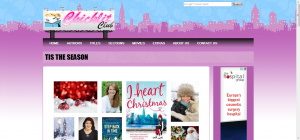 She said this:
"12 Dates of Christmas by Lisa Dickenson – this is a cute concept, her novel is coming in six parts, two dates per ebook. Reading it will be a bit like opening an advent calendar! Lisa was one of the 10 writers shortlisted for the Sunlounger short story competition this past summer and she has such exuberant energy and humour, it should be a really funny, heart-felt read."
Next week
Last week of the tour next week!  Sob!  Now I know how Beyoncé felt when The Mrs Carter Show ended…  But for Round 6 I'll be with Kevin on I Heart.. Chick Lit, with Kate on Books With Bunny, and with Leah on Chick Lit Reviews & News.  See you there!
L xx