Blog Tour: Round 4
Can you believe we're half way through?  Oh, you can?  As you were…
Well here's a round up of Twelve Dates' blog activity over the past week, both on the blog tour and some lovely reviews that have come in.  Hooray!  As usual, I'm HUGELY grateful to anyone who's willing to let me feature on their blogs, or who takes the time out to read the posts, or read Twelve Dates.  I can't say it enough, so I'll just keep slipping it in where I can – thank you, thank you, thank you!
Day 12
Let me first say that the name 'Reading in the Sunshine' is one of the prettiest blog names I've ever come across!  And it's run by beautiful newlywed Megan, who let me come on over for both a chat AND to show off a little extract from Date 1…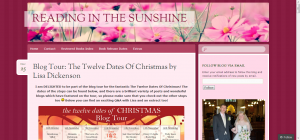 Day 13
On Tuesday, sparkletastic Sharon left a lovely combined review of Dates 3&4 and Dates 5&5 on her blog, Shaz's Book Blog.  Thank you so much Sharon!  I'm still kind of in shock when people read on past the first chapter…!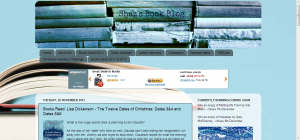 "I'm really enjoying reading about Claudia's different dates and cannot wait to see what's in store for her next!"
Day 14
It was brilliant to be featured this week on sweetie-pie Emma's EmmaIsWriting blog, where she had a Q&A with me (with some fab questions) and said some rather lovely things too! *blush*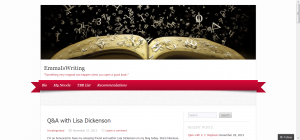 Emma has a sleek new author website here which details her upcoming novel-scribing career!

Day 14
Laura is SO LOVELY and she left me the nicest review of Dates 1&2 on her blog (Laura's Little Book Blog) on Wednesday.  It was a brilliant surprise that sparkled up my whole day!  And she gave it a stonking 9.5/10!!  This is crazy talk – I'm a first time author!  I'm terrified someone will discover that I can't write for toffee at some point soon.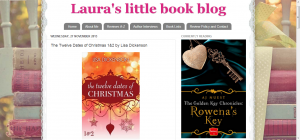 She said these nice things, among others:
"I can't believe this is Lisa's debut! It is amazing! … It's just one of those stories that is so easy to get into and it was so funny and manages to easily be so in such a short space of writing … I just know that The Twelve Dates of Christmas series is going to have me laughing and feeling incredibly festive. Can't wait for my train journey home to read the second part!"
Day 15
On Friday, the warm and funny Jody (who is as in love with Dawson's Creek as I am) kindly featured Twelve Dates on her 'December 2013 releases to look forward to' list on her blog, A Spoonful of Happy Endings.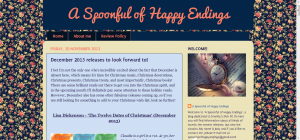 Next week
Next week is my wedding anniversary!  But I'm also hanging out with Jody again on A Spoonful of Happy Endings, and with Chloe on Chloe's Chick Lit Reviews (which has a festive redesign – check it out!)  So see you there, and for tomorrow: MERRY CHRISTMAS (month)!
L xx