Blog Tour: Round 3
On the third day of Christmas, my true love gave to me… A COPY OF TWELVE DATES BECAUSE IT'S THE ONLY WAY TO SHOW SOMEONE YOU REALLY LOVE THEM.
Day 8
First up I had a LOVELY review of Twelve Dates on Tishylou's World.  This girl is so nice, and she kindly read the whole book in advance and said some lovely things…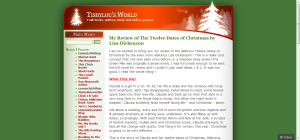 "I bloody loved it!! I laughed so hard that people were staring at me! I cried, I got a little hot under the collar (Lisa is great at writing sexxy scenes!!!) and then I laughed some more. I adored Claudia probably more than any other character in any other book! I really want her to be my best friend!! She's sweet, loyal, kind, sensitive and hilarious!! I loved Penny too, she and Claudia are a force to be reckoned with, I think! And Nick… What can I say?? Dreamy, deeelish and perfect? Ya, that will do it… I want one….
The biggest, most sparkly, snow dusted 5/5!!!!!"
Day 9
Well that was all rather lovely.  From there I shimmied and skipped my way over to the very very very pretty She Loves to Read website, where Laura has a marvelous Christmas 'Flash Fiction' theme going on at the moment, featuring heaps of fab guest posts by bloggers, authors, readers etc.  You should definitely check it out, it'll be sure to make you feel festive.
Big thanks to Laura, who let me publish my flash fiction piece in conjunction with my blog tour.  It's about pretending you're in a Christmas rom-com movie.  Click on the pic below if you'd like a read!  CLICK IT.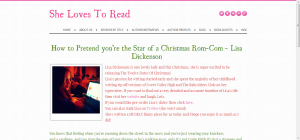 Sidenote: Laura and her writing group have released a sparkletastic short Christmas story called All I Want for Christmas – it's a total bargain on Amazon and all proceeds go to charity, so don't be a Scrooge, you know what to do…
Day 10
Sharon is just AMAZING, isn't she?  I absolutely love this woman; she's kind, generous, brave and has a heart of gold.  She hosted me again on her site this week, for a Q&A as part of my blog tour.  I really hope you're not all sick of my ramblings by now because she asked some great questions…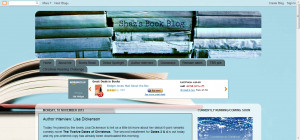 Day 11
Today I had a very exciting and very special post on Novelicious – the My Writing Room feature for the week!  THIS WAS VERY EXCITING FOR ME.  It's a little… urm… less glam, tidy and special than most of the other My Writing Rooms, but people seemed to like it 🙂
"This has to be the best 'My Writing Room' ever!" – Ali McNamara
"Your writing room was so popular yesterday! One of my faves ever on the site!" – Kirsty Greenwood
Check it out, and see a massive photo of my face.  Living the dream.
Next week
Slam dunk da funk, off I go next week to visit beautiful bride Megan on Reading In The Sunshine, who'll have an extract of Twelve Dates and a little Q&A and the sparkly Emma on EmmaIsWriting for a chatter.  See you there!
L xx