Blog Tour: Round 1
Let's get readyyyy to rhumblllllle…
So my blog tour kicked off this week with all the fanfare of a Katy Perry concert.  It's been completely exciting and new and strange and brilliant to be featured on these amazing sites.
Day 1
On the 30th October, the lovely Novelicious welcomed me to the world with a 'Novelicious Chats To… Lisa Dickenson' feature.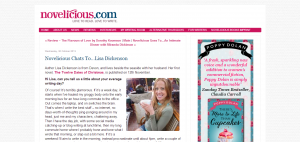 In here you'll find me use the words 'goodies', 'bucket' and 'scaredy-cat'.
Day 2
Shimmying into the 4th November I was very lucky to be interviewed by Sunday Times Bestseller, Miranda Dickinson (she's currently at number 4 in the list with her latest novel, Take A Look At Me Now!)  How nice is she to give a brand new author a chance like that??
Don't worry, there are some good words in here too: 'Real Housewives', 'grumpiness' and 'willies'.
Sidenote: her blog is so pretty!
Day 3
Then I muscled my way back onto Novelicious again on the 5th November, to preach to everyone about my top 5 writing tips… they really are very welcoming there…
This includes the amazing tip 'who cares exactly what minor gesticulations your characters are doing?' and other gems.

Day 4
Off I tangoed to The Love of a Good Book, where I really overstayed my welcome on the 7th November by splurting on a grand old amount in an interview AND did a piece for the LOVELY Kirsty's 'Inspiration Month'.
You'll never guess which words I used here… 'gingerbread' and 'snogging' appear in the interview, while 'eavesdropping' and 'Haribo' get a mention in the inspiration piece.  Good times.
Next week
The voyage continues next week, when I'll be loitering about with Sarah, Carol, Trish, Laura and, like a bad smell or a needy girlfriend, I'll be back badgering ladies of Novelicious.