Amsterdam Diary
Last week I was able to visit the land of clogs and windmills for a work trip, which basically means my day job pays for everything, I have to go to some meetings, but Husband Phil could come along for a jolly and only pay for his flights and food.  And inbetween the meetings I had some time off to have an explore.
Day 1
We arrived in The 'Dam in the middle of the day with big grins like this, and on a silly little plane like this:
Off we bounced to the lovely NH Barbizon Palace hotel where we were staying for three nights.  The room was cosy but cool, on the fourth floor and split level, with a fab view of some of the traditional Amstardam buildings on a canal, and they give away great toiletries – like this HAIRBRUSH.  A HAIRBRUSH.
I had to go straight to my first meeting, so Husband Phil climbed into his comfy shoes and went for an explore.  After my meeting I was going out to dinner with the meeting people, and we went to a very fancy restaurant stuffed inelegantly between a live porn show and a sex shop.  I had tongue and bone marrow to eat, and nearly ordered sweetbread thinking it was, like, brioche or something.  Cray cray.
After that I scampered back to the hotel to collect Husband Phil, and we went out for a snigger and a blush around the red light district.
  No photos of nudey ladies allowed.
Day 2
I had the next day off (though I had a work dinner to go to in the evening) so Husband Phil and I took a boat trip around the canals:
And then a big old walk around Amsterdam, looking at the shops and the Christmas markets:
Oh snap: we found some big clogs: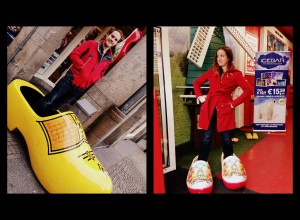 Later on we went back to the hotel for a sauna, and then I had to bugger off to my dinner, which was a nice Italian restaurant on a pretty street.
Husband Phil did this: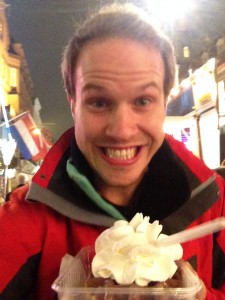 Day 3
I had to go early to a meeting over in our head office today, so after a stonking breakfast at the hotel I left Husband Phil to explore more of the city.  Off I trotted, getting totally lost coming out of the train station, so was very British and nonchelantly strolled in the wrong directions for 10 minutes before circling back and finding my way.
After the meeting, I went back to meet Husband Phil and we did the Heineken Brewary Tour!  IT WAS TOTALLY STILL A WORK DAY!  Naughty.  This happened:
And after we'd sloshed some beers we got a boat ride back towards the centre (a FREE boat ride!) and then had a fondue and steak dinner in a heavingly crowded and tiny and lovely restaurant.
Day 4
Morning came, and 'twas time to leave.  So long, Amsterdam!  Hope to see you again sometime soon, preferably with a little less meetings.